Obituary for Daniel Dean Holt
Daniel Dean Holt, Sr. was born October 28, 1945, in Colquitt, GA. He died April 19, 2019, in the ICU at Piedmont Atlanta Hospital. He was the youngest of seven children and he was married for 50 years to Mary Jane, the oldest of seven. They had two sons, Dean (Daniel Jr.) and Derrick. He and his two sons were baptized together in 1981. No man ever loved two other men as well as Daniel loved his sons. They and their wives, Robin and Sonya, were by his side when he died.

When Daniel proposed to Mary Jane, before they ever had an official date and before he ever had even kissed her, she said "I will marry you, but I will never love you more than I love God, and I will not pledge to obey you." He said, "That's okay as long as you know I love hunting, and every fall, hunting will come first." In recent months, he repeatedly said his 2018 Hunting Season was his best ever. In countless ways, his friends Dennis and Robert helped to make it so.

Daniel was a working man! He got his first job when he was 13 years old cleaning the floors and bathrooms at a tractor dealership in Dawson, GA because he loved tractors. He spent four years in the Air Force and served two tours in Vietnam at a base where Agent Orange laid the groundwork for the suffering he endured in later years, but he never complained. He worked at Delta Airlines for 37 years as a mechanic, lead, inspector and finally a foreman. When he retired from Delta in 2006, he worked at Atrium Windows and traveled for them throughout the southeast for six years. After retiring from Atrium he made deliveries for Southside Auto Parts three days a week. When he told his boss he could physically no longer do that job, which he enjoyed tremendously, the company held the position open for many months in hopes he would get better and could come back.

Daniel was a simple man, a busy man, a very hard worker, a rock to his wife and kids, a great friend and phenomenal hugger! He loved to flirt and the ladies adored his handlebar mustache (some men did, too). Nurses were his favorite. He married one in 1968 who will love him forever, and he met many in recent years who compassionately loved and cared for him during a long and challenging illness. He so appreciatively loved them in turn. He adored his doctors, too - four of whom were beautiful women. He considered himself quite lucky! His last words on Monday night before his death the following Friday, as the crisis that killed him set in, before he had to be put on a ventilator, were "I am getting better. I will call you back in ten minutes. Take care of YOU, girl." He said that over the phone to Dr. Diliana Panova with whom he often enjoyed sharing "8 second hugs" which studies say are more therapeutic!

During the last three years of his life as three major disease processes attacked with a vengeance, he kept driving his tractor, planting his fields, mowing his lawn, and making flowers grow. Oh, how he loved flowers! On the really bad days, when the muscle weakness prevailed, he would watch old westerns and his wife would sit with him and watch them too, so he would not feel guilty about sitting still. Sitting still was the one and only thing he ever tried to do that he did not do well, unless it was in a deer stand. He never stopped getting up, bathing, dressing well and productively LIVING out every day of his life. In the end, his heart, his lungs, and his myasthenia gravis competed for three years to kill him - the heart won. It was the biggest, lovingest, tiredest heart ever! He and that heart finished everything they ever started.
The following words became his motto when he was diagnosed with Myasthenia Gravis in the spring of 2016: "God, grant me the serenity to accept the things I cannot change, Courage to change the things I can, And the wisdom to know the difference."

Daniel was preceded in death by his parents, James B. and Ruby Paul Holt, as well as brother, Donald and sister, Jan Shannon. He is survived by his wife of 50 years, Mary Jane Everson Holt; two sons, Daniel Dean Jr. and Derrick D'wayne; two brothers, JL Holt (Lula) and Sidney Alan Holt (Cherie) of Leesburg, GA; two sisters, Nadine Angel (Ronnie) of Maysville, GA and Sadie Conley (John) of Leary, GA; sister-in-law, Faith Holt of Hawkinsville, GA; five grandchildren, Dylan, Elise, Justin, Olivia and Caleb; one great granddaughter, Charlie; numerous cherished nieces and nephews; and his beloved cat, KittyMoose.

Friends and family are invited to attend a Celebration of Life Service at 2:00 PM on May 11, 2019 at Mowell Funeral Home, Fayetteville. Family visitation is from 1:00-2:00 PM prior to the service at the funeral home.

In lieu of flowers you may donate in Daniel's memory to "Cowboy Outreach America" at TommyBrandt.org or cowboyoutreachamerica.org. However if you prefer to send flowers or a card, please consider sending green plants which the family can enjoy longer... and cards with your memories of Daniel would be welcomed and can be mailed to Mary Jane Holt, PO Box 246, Gay, GA 30218.
To send flowers or a remembrance gift to the family of Daniel Dean Holt, please visit our Tribute Store.
Previous Events
Visitation
Carl J. Mowell & Son Funeral Home - Fayetteville
180 N Jeff Davis Drive
Fayetteville, GA 30214
Celebration of Life
Carl J. Mowell & Son Funeral Home - Fayetteville
180 N Jeff Davis Drive
Fayetteville, GA 30214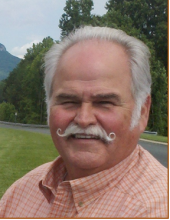 Thank you for sharing your
memory of Daniel
Provide comfort by sending fresh
flowers from our local florist.
No thanks, please don't show me this again.