Obituary for Lt. Colonel Thomas McGregor, Retired
Thomas McGregor, a resident of Peachtree City, GA, died Monday, May 21, 2018. Born October 28, 1930 to Duncan Stewart McGregor and Mary Campbell Nelson in St. John Hospital, Yonkers, New York.

His wife of fifty three years, Ellen Phoebe McGregor, preceded him in death in 2013, as well as his sister Janice N. Mastro and his brother in law George Allen Coppage.

He is survived by his daughter, Stephanie McGregor Aliffi and son in law, Thomas Joseph Aliffi of Stockbridge, Georgia, sons, John Thomas McGregor of Peachtree City, Georgia and Lee Duncan McGregor and daughter in law Patsy Harp McGregor of Appling, Georgia, and grandchildren, Thomas Nelson McGregor and Madelyn Grealy McGregor of Marietta, Georgia.

Thomas completed his education in the Yonkers school system and graduated from Gorton High School in 1948. He worked for Bigelow-Sanford Carpet Co. and in the evenings attended Pace Collage, New York City. He enlisted in the Army Reserve with the Mobile Army Surgical Hospital in NYC in 1950, and entered active duty in 1952. He attended basic training at Camp Pickett, Virginia, and became a cadre and medical corpsman at Camp Pickett before entering Infantry Officer Candidate School, at Fort Benning, Georgia in 1953. Graduating in early 1954, he was sent to Korea, completing his tour commanding a heavy automotive maintenance company. He returned to attend the fixed wing aviation course at Gary Air Force Base, San Marcus, Texas in April 1956, and the advanced fixed wing course at Fort Rucker, Alabama, graduating in January 1957. That same year he attended the primary rotary wing course at Fort Rucker completing the course in October.

His next assignment was flying CH-34 helicopters for three years with the 8th TC Battalion at Ober Schleissheim, Germany (north of Munich), supporting the 10th Special Forces in the Bavarian mountains. Highlights of this tour: (1) the first helicopter international cross country flight from Munich to Vienna, Austria; (2) flying an injured military dependent from a mountain ski resort to the Wiesbaden hospital near Frankfort; (3) flying the Czech border for one year in support of 2nd Cavalry Regiment; (4) in late 1959 flew from Munich to Paris, France with four other helicopters in support of President Eisenhower's visit, flying from the Palais de L'Elysee palace, around the Eiffel tower, down the Seine river to President De Gaulle's estate twenty miles south of Paris.

In January 1960 he was assigned to the 19th Transportation Company at Fort Benning, Georgia, flying Ch-37 helicopters. On a special mission for the Firebee exercise at Tyndall AFB in coastal Florida, he recovered a USAF drone five miles south of Panama City Beach at midnight (no moon) and delivered it to the airport ramp at Tyndall AFB. While with this company, he was promoted to Captain and served as the operations officer, continuing in this capacity when the company relocated to Korea. He supported the 8th United States Army including Missile Command where he performed the airlift of Hawk and Hercules missile batteries from sites located along the Demilitarized Zone to depot maintenance. Additionally he supported both the Korean Army during joint Army maneuvers, and the Korean Marines during their amphibian landings with the US Navy.

In 1964, he attended the Transportation Officers Career Course at Fort Eustis, Virginia for one year before reassignment to Fort Benning, Georgia to the 10th Aviation Brigade, 11th Air Assault Division (Test). After promotion to Major, he was assigned to flying Ch-37 in support of developing the assault and mobility concept. Upon completion of maneuvers, he transferred to the 1st Chinook (Ch-47) Helicopter Battalion (re-designated 1st Cavalry Division (Airmobile)) and then deployed with the division to Vietnam, where he served as the Intelligence Officer (S-2) and president of the battalion's aircraft accident investigation board.

He relocated again to Fort Benning and was assigned to the 10th Aviation Group, where he commanded a battalion size company for three years as the Group's Logistics (S-4) Officer. Once promoted to Lieutenant Colonel in 1969, he transferred to the post Commanding General staff as the Director of Logistics. He served as Director of Facilities and remained in the position until retiring in 1973. While on the staff, he completed a bachelor of business administration degree at St, Benedict College, Atchison, Kansas, and attended the Department of Defense Aircraft Accident Investigation course at University of California. During his service he earned the Bronze Star, four Air Medals, Meritorious Service Medal, Army Commendation Medal, several Republic of Viet Nam (RVN) decorations, and four service medals.

After retiring from the Army, he managed a real estate trust in Albany, Georgia for five years, where he designed and built the company's first apartment complex in twenty years. While in Albany he earned an MBA from Chapman University, Orange County, California. He then moved to Chicago and joined the Santa Fe Land Improvement Company, a subsidiary of ATSF Railroad. He participated in the acquisition of commercial real estate and developing the property management program. He joined Paramount Group and managed their real estate assets in mid-continent and then the Greater American Real Estate Management & Investment (GAMI) Inc., relocating to Atlanta and managed thirty two office complexes throughout the United States. He started a real estate brokerage company in 1990, practicing acquisition and sales of commercial real estate throughout the country.

He was member of the Clan MacGregor, Order of Scottish Clans in Yonkers and participated with the degree team in the Robby Burns day parade down central park west, NYC on several occasions. Thomas was a member of the Yonkers Chapter Order of DeMolay, from 1946 to 1969, becoming a Past Master Counselor of the chapter.

He became a Master Mason with the Thistle Lodge #900, Yonkers, NY in 1953. In 1989 the members of the Grand Imperial Council of Scotland came to Frankfort, Germany and bestowed upon him and other army officers the York Rite degrees including Supreme Royal Arch Chapter of Scotland-Excellent Master Lodge, Royal Select & Super Excellent Masters, Royal Arch Mariners, Order of Temple, The Order of Malta, The Order of St. John the Evangelist, and The Imperial Religious Military Order of Rome and the Red Cross of Constantine.

He was a life member of The Military Officer of America (MOAA), Army Aviation Association of America (MAA), Disabled American Veteran (DAV), Army Aviation Heritage Foundation (AAHF), and The Vietnam Helicopter Pilots Association.

"The Masonic memorial service will be held Saturday, June 16th, 2018 at 2:00 P.M. at Carl J. Mowell & Son Funeral Home, 200 Robinson Road, Peachtree City, GA 30269. Interment will be held Monday, July 9th, 2018 at 1100 A.M. at the Georgia National Cemetery, 2025 Mount Carmel Church Lane, Canton, Georgia. Expressions of sympathy may be made in the form of contributions in Thomas's memory to the Masonic Brotherhood Fund, PO Box 9020, Hicksville, NY 11802-9020."
To send flowers or a remembrance gift to the family of Lt. Colonel Thomas McGregor, Retired, please visit our Tribute Store.
Previous Events
Memorial Service
Carl J. Mowell & Son Funeral Home - Peachtree City
200 Robinson Road
Peachtree City, GA 30269
Graveside Service
Georgia National Cemetery
1080 Scott Hudgens Drive
Canton, GA 30114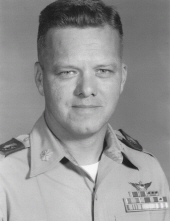 Thank you for sharing your
memory of Lt. Colonel
Provide comfort by sending fresh
flowers from our local florist.
No thanks, please don't show me this again.